VICE PRINCIPAL'S CONVICTIONS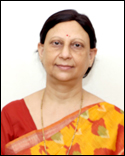 Smt. Kavita Naik
Transition…..
Life is a series of natural and spontaneous changes. Nothing is constant. One shouldn't resist it, to let reality, be reality.
And in doing so, I let things flow naturally forward, that came my way……..
I always believe in the fact that 'Change is not a threat', it is an opportunity. After teaching , almost at all levels, survival was never the goal but transformative accomplishment mattered.
However as I embarked on my journey, I did encounter a lot of challenges , as the post of the Vice- Principal , came in at a very crucial time when there were these impending CBSE Board exams to begin with , and the onset of the new academic session of 2022- 2023 .
I must mention here, one needs a good support system when one tries to make positive changes for smooth functioning of an institution, I must say, I had it all in place .
The educational philosophy prevalent at Gurukul aligns well , with the mission of our school .As every effort of each one right from the management , educators and staff is directed first and foremost towards instilling discipline and values ,amongst our Gurukulites, nursing them with utmost care, enriching their tender minds by imparting education to become knowledgeable ,and at the same time making them aware of our rich cultural heritage. It implies that , when the system is in place there is an ease and comfort to shoulder responsibilities.
Education is the foundation that every child needs and aspires to achieve, their set goals . I honestly feel it is the duty of We the Educators, to strive to make school an environment that both motivates and challenges students to take charge of their education .
I have taught for good 23 years and at all varied levels : as a parent teacher , teacher and at present in the capacity of the Vice-Principal ,I have seen the education system from all angles. The unique perspective to find solutions to varied situations , actually helps strengthen the bond which eventually involves co-operation among parents , teachers and the administrators .
My approach towards the entire school members is all about conveying large amounts of information, and ensuring that all members understand ,with clarity to make it effective . Constant interactions do wonders .
I am of the opinion that there's just politeness accompanied with firmness that can alone help to deal with complex situations.A straight talk , without procrastination , is the best way to deal with any situation . This unique experience has given me , a lot of insight into how classrooms can be adapted to meet a diverse range of students with difficult learning needs . As the Vice-Principal I would use these insights to make sure that any system or procedure , that we choose to implement , are specifically adapted to the unique needs of each of our students.
My motto :
"Work hard in silence, let your success make the loudest sound"