Director's Message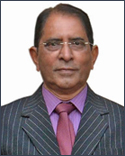 Shri. T. D' Costa
Dear Parents and well-wishers,
Shree Swaminarayan Gurukul, Chala. Vapi, commenced with Swami Bhaktikishordas perceptive insight in June 1995, development and expansion has continued for more than two decades in leaps and bounds. Since our commitment to education today recognises the necessity for thinking and acting from insular to universal. Shree Swaminarayan Gurukul has always strived to diversity and reshaped the path of education according to the ever-changing world.
What is the true aim of Education? What is the common goal for the parents and us as educators? Is it the style of building they enter or the substance of the learning provided that makes the key impact on the children? Parents making this important decision need to look inside the classroom for evidence of quality education for their child.
A child is true creation, from the influences of the home and school environment, teachers play a vital role, as parents do. The world today is more competitive than ever, bringing unpredicted challenges and new situations.
Parents have strong sense of responsibility in choosing a institution like Shree Swaminarayn Gurukul to help prepare their child for the unknown future. The evolving world dynamics have sought and forced changes upon us; thus at S.S.G. we have hold precedence over content and quality teaching above all.
A Gurukulite, on our unique education journey is immersed in Indian and Western cultures, whilst acquiring a high proficiency in English, Hindi and Gujarati. Our students gain a new and profoundly deep appreciation in these spectrums.
Regardless of their original background, the gurukulites achieve a natural ability to successfully respond and communicate, effortlessly moving between Indian and Western styles.
Shree Swaminarayn Gurukul acknowledges our human obligation to cultivate new generation that will take care of the environment, social and economical challenges ahead. We wish to drive the world's direction. Linked with our commitment to global education is the vision to promote the inner moral compass; this balance will enable them to take the helm and steer their way through human complexities, enabling them to exhibit goodness, honesty and compassion with confidence. After all, it is the learning that will impart and transform the future, and Shree Swaminarayn Gurukul is the Institution that creates this environment.
God bless you all.
Mr T. D'Costa.
Director